Who we are
We are a Nationwide Contract Fencing team with Nationwide DIY Fencing Stores in Cavan (Ballyjamesduff), Clare (Ennis), Cork (Bandon, Kanturk, Midleton), Donegal (Raphoe), Galway (Athenry), Kerry (Castleisland), Kilkenny (Cillin Hill) , Limerick (Bruree), Offaly (Edenderry), Roscommon (Boyle),  Tipperary North (Roscrea), Tipperary South (Cahir), Waterford (Kilmacthomas) and Wicklow (Tinahely).
We have over 35 years' experience in the construction of fences for the Agricultural & Equine, Residential, Industrial & Security, Sport & Recreation, Local Authorities & Public Works sectors and our expert know-how and advice transcends to our direct DIY fencing customers.
Our origins are deeply rooted in agriculture, being part of the frs network* (Farm Relief Services). Our centralised purchasing team ensures that the best materials and prices are sourced to service our customers throughout Ireland.
Our Promise
To bring exceptional quality fencing materials and workmanship to every job, combined with competitive prices, to deliver the highest quality service. FRS Fencing products and services are distinguished by:
Permanence
Quality Finish
Craftsmanship
Cost Effectiveness
Expert Contract & DIY Fencing
We have evolved our services to include a wide range of DIY options, supplying the quality materials for the job at hand. Our highly reputable contract fencing service is always available to get those larger, more time consuming or more specialised jobs complete. Our fencing stores stock everything you will need for your DIY fencing project from accessories, tools, materials and expert advice. Our motto is "don't sacrifice quality for price" and encourage customers to get the experts in to do the job if they do not have the required set of skills to do it correctly and to a high standard. Our expert fence erectors are trained and familiar with the best practices in fence construction.
Free Quotes
Detailed quotes for DIY and full contract service options are available on request. Quotations on our contract service are based on your specifications and often require an onsite visit. We are familiar with the fencing standards required for all EU, Government Departments and Local Authority contracts and Government Grants.
Free Expert Advice
We invite you to just ask.
Maintenance & Repair Service
We offer a maintenance check-up service to farmers to highlight any issues and provide a complete repair or replacement service with free quotes and advice. See our Repair & Maintenance service section for more information.
Selection of our Top Quality Suppliers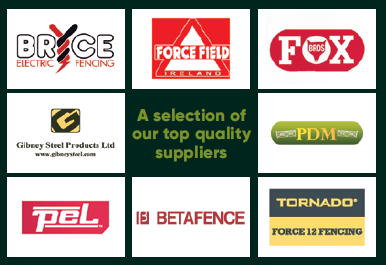 *FRS Network is a co-operative organisation established in 1980 for the provision of skilled people to meet custommer requirements. Through growth and diversitification FRS have expanded into five distinct divisions intrinsically linked through the supply expertly skilled people and innovation – farm services(www.frsfarmreliefservices.ie), fencing(www.frsfencing.ie), recruitment(www.frsrecruitment.com), training(www.frstraining.com), and Herdwatch(www.herdwatch.ie), with a network of 20 offices nationwide.
In February, the Targeted Agriculture Modernisation Scheme (TAMS 3) was launched by the Department of Agriculture, Food and the Marine (DAFM). The aim of TAMS 3 is to provide grant aid to farmers to build and/or improve a specified range of farm buildings and...