Looking to upgrade your garden fence?
Think DuraPost.
DuraPost provides a range of styles, colours and matching accessories to create your perfect outside space. Choose from contemporary colours and design your dream garden. Anthracite grey, olive grey, sepia brown and galvanised steel are all available.
This fencing can give you stylish privacy in cities, towns and the country side. Suitable for gardens, driveways and patios. Durapost will create a tranquil sanctuary on your property.
This steel fence post system that is lightweight, versatile and stronger than concrete. It is also maintenance free making it easier for homeowners to keep, and long-term better value. It is more hard wearing than both concrete and timber fence posts, it doesn't rot, split, warp, crack or chip and can withstand strong winds.
At end of life, this fencing system is 100% recyclable, giving you a sustainable product for your fence.
"Quite simply a game changer as far as fencing construction goes. The look, feel and strength… All for just a few more pounds than a concrete post. It's a no brainer."
Damien
Garden Designer and Landscaper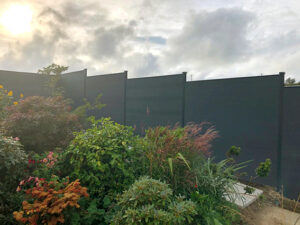 Interested in finding out more? Click here